For Combination Skin
SPF 10 Sunscreen

Ideal Balance is a liquid foundation designed for combination skin. Special ingredients absorb excess oils, while lotus flower moisturizes and soothes dry areas. Foundation is oil-free with a soft matte finishes.

Loreal Ideal Balance Balancing Foundation was created for combination skin and promises to fight oily spots, while keeping dry spots moisturized. With a silky application and a soft matte finish, this is sure to be your ideal foundation. Available in 12 fantastic shades, Ideal Balance Makeup from L'Oreal is the way to go!
Manufacturer: Loreal
Description:
- Powdered minerals provide the coverage of a foundation but the soft, light feel of a powder.
- Perfect skin without the heavy, mask-like feel of many traditional foundation products, and allow skin to breathe.
- Safe for even the most sensitive skins and provides natural sun protection.
- Light to medium coverage.
- Contains Aloe and Vitamin B5 to soothe, condition and protect sensitive skin.
- Contains no unnecessary fillers, no unnecessary preservatives, and is oil-free and fragrance-free.

Ingredients:
Active Ingredients: Titanium Dioxide (3.0%), Zinc Oxide (5.0%). Inactive Ingredients: Talc, Boron Nitride, Dimethicone, Copernicia Cerifera (Camauba) Wax, Cetyl Dimethicone, Trimethyl Siloxysilicate, Triisocetyl Citrate, Aloe Barbadensis Leaf Juice, Tocopherol, Panthenol, May Contain:, Bismuth Oxychloride, Iron Oxides
Loreal Foundation
Even though it contains mineral makeup ingredients, but from the ingredients, you can see that this is not a pure mineral makeup.
I have rather mixed feelings about this one. It's not bad, but not all that good either. Anyways, here's my take on the mineral foundation:
PACKAGING
Contrary to a lot of comments about how bulky the foundation is, I'm actually quite pleased that it has a brush incorporated into the packaging. I think it would be quite swell to bring this around when traveling because it sure beats having to carry an extra kabuki brush and making sure it (the brush) doesn't get smushed in my cosmetic bag. I'm also glad that it's very easy and non-messy to apply (you know how mineral foundations can sometimes be a pain in the bum to apply; your dressing table gets more powder than you do!).
The bristles are pretty coarse though. Still, it didn't bother me that much; I'll just use my own brush when at home, and bring the whole package (hehe!) with me when traveling. I gave the brush a bit of a wash and conditioned it, so it's not that harsh on the skin :p
Loreal Foundation
FOUNDATION
This is the part where I have mixed feelings about. The powder went on really well and makes my skin look flawless (without the cakey, foundation-y look). It stayed on pretty long too (I wore it to a barbeque for a whole afternoon, and it didn't run). The minerals also provide a sunscreen with a SPF of 19. Any product with sunscreen is good in my books.
I would be absolutely delighted with this product if not for the fact that after an hour or so, I looked very SHINY. I had to use quite a lot of facial blotters when I used the mineral foundation just to eliminate the shine when I was outdoors.
A reader alerted me on one of the ingredients used in Loreal's mineral foundation, bismuth oxychloride, which is known to produce shine, and also clog pores. So far, I have no problems with clogged pores with this mineral foundation (but then again, I don't use it every day) but I just can't stand the shine. I have an oily T-zone, and by the end of the day, the "T" just blinds me if I don't blot. Okay, I'm exaggerating there, but you know what I mean.
You can read more about bismuth oxychloride here. Bear in mind that the very-popular Bare Escentuals mineral foundation also contains bismuth oxychloride.
Loreal Foundation
How to apply the mineral foundation (click to enlarge)
As the foundation contains bismuth oxychloride, I'm reluctant to use this on a daily basis, but I wouldn't mind using it once in a while, or bringing it with me when I'm traveling. I'd just have to remember to bring a lot of oil blotters with me :p
Loreal Bare Naturale Powdered Mineral Foundation is available in eight colours – Soft Ivory, Light Ivory, Nude Beige (I bought this one), Creamy Natural, Natural Beige, Buff Beige, Sun Beige and Classic Tan. You can get it at Priceline (and other pharmacies) for AUD33.95.
Loreal Foundation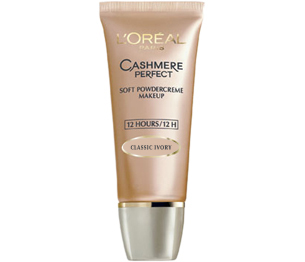 Loreal Foundation
LOreal-Matte-Morphose-Foundation